The game I'm working on mainly uses animal for the party characters. And I'm kinda hard pressed for sprites and faces so could some one just make me some recolors on these face and sprites:
1.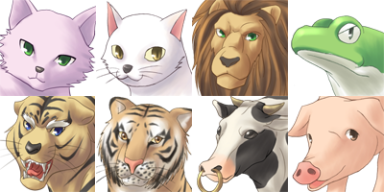 2.
3.
4.
5.
6.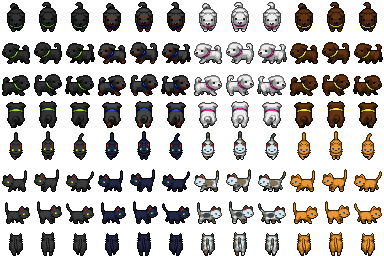 7.
Nothing too outlandish (Ex: No purple cows).
Specifically:
I need the chicken sprite in 7 recolored to match the chicken face in 2.
I need a white wolf face. Use either of the wolf faces in 4.
A male lion
and tiger
sprite to go with the faces in 1.
I need the either of the dog faces in 4 recolored to match the dog sprites in 6.
I need the either of the cat faces in 1 recolored to match the cat sprites in 6.
I would like to have sprites based off the faces in 5.
Non-specifically:
Those are all the animal sprites I have so while not strictly neccesary, it would still be nice to have the following animal sprites:
ChipmunkRabbitRat
Ram
SeagullCrowEagle/HawkFrogPig
They of course need to correspond to the faces I already have or I'll have to put in another recolor request.
Just to clarify. I did not make ANY of these faces and sprites and take absolutely no credit for them. I found most of them on a site which was composed of completely random symbols and a really funky looking link in the address bar, so I don't know who made them. (But it wasn't me.)
Okay, hope I didn't sound to demanding. I'd be more than happy to help who ever helps me in whatever way I can. Also, I don't care if other people use these if you don't.